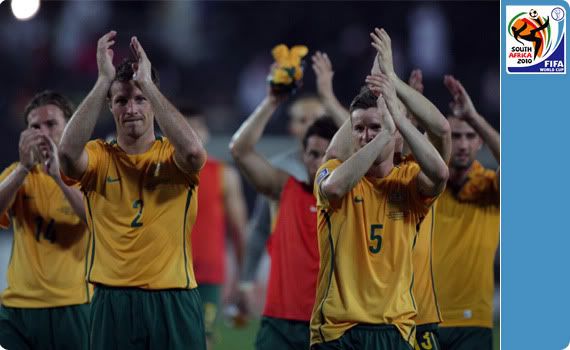 Average performance and blasé celebrations aside, the Socceroos and Australians alike are rejoicing at the thought of going to their second consecutive World Cup final in South Africa next year... and I guess none more so than CEO of Football Federation Australia and 'gleaming in smug pride' Mr. Ben Buckley: [Goal]

Qualifying this time around, with the travel and match conditions the team has experienced, is a true measure of the progress football has made...
"While 'do or die' results, such as the famous Uruguay game four years ago are exciting, a qualifying campaign such as this one through the Asian zone is a tough test.
"I am sure everyone joins us in congratulating Pim Verbeek, his staff and the Qantas Socceroos for this wonderful outcome.
"I urge Australian fans to show their appreciation of the squad in our final two matches of the qualifying campaign."
Yeah, I think back to this stage of the qualification process four years ago and the biggest difference is that this time round I'm not lying chest first in my own vomit covered in urine (possibly mine), thinking to myself, "Shizen, I've gotta get to Germany next year"... nope this time round I sit comfortably on my couch in nothing but my Socceroos scarf and woolly white socks pulled up to the knees whilst I wonder if I an international firearms license and mace should be on my packing list for SA next year!? I guess that can always be a last minute thing though.
In the meantime, now is probably as good a time as any to congratulate Pim and the boys for all their hard work and effort and for making it to the finals... even though the lead up wasn't as exciting as the two-legged nail biting matches against Uruguay in '05, it has been great and next year is going to be lekker bro!
Let me know if you're planning a trip to the World Cup finals next year, regardless of who you're supporting... but more so if you're going to support the Green and Gold... C'mon Aussie!
Match highlights:
To be added soon
Older Socceroos WCQ news:
Almost There! Australia 2 v 0 Uzbekistan
Review - WCQ 2010 - Japan 0 v 0 Australia
Review - Bahrain 0 v 1 Australia
Review - Australia 4 v 0 Qatar